Positioning your website in Search Engines (SE) often feels like an ominous task.

Here are some good actionable On-Page SEO tips to increase your chances of ranking well on search engines result pages (SERPS).
Define your Keywords
Most people guess the keywords to use. Often they guess wrong. There are many free tools around to see how many people use specific keywords in your location. We recommend the
Google keyword Planner
to get started. Just enter the keywords you believe are correct, then see the other suggestions. Filter to see your region and then check the suggestions. The more people searching for the keyword, generally the better traffic it can generate. Of course, our own keyword research tool also provides this service.  
Define only 3 keyphrases to get the best bang. Important metrics like 'keyword weight on page' means you need to have targeted content. For each keyword or phrase, you will need 3-5 human readable sentences of content. To ensure you are focused, just start with 3. Once you have 3 ranking, add the 4th, when this starts to rank, add the 5th etc. Most business managers want to start with 20. Many will have low search counts and it just wastes your effort. A smaller targeted set of keywords works much better.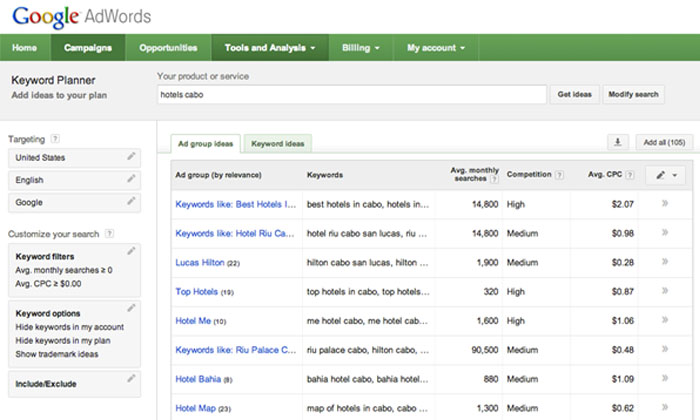 Pick a Good Domain Name
Most people go about picking a domain which means something about the business (or themsleves). The domain name is the gold bar for SEO ranking. 
 


Here is an example:

Names like TooShoesSailing.com.au are perfect for feeling good about the business, but a domain name such as SydneyHarbourBoating.com.au says a lot more. Even better, by including keywords "sydney harbour boating" the SEO work is well on the way to good rankings.
Use the Best Keyword in Your URL
Most Content Management Systems (CMS) will allow you to define the URL for your pages. Continuing with our example at SydneyHarbourBoating,com.au the page names were often things like SydneyHarbourBoating.com.au/the-boat/ when it could have been SydneyHarbourBoating.com.au/the-boat-on-sydney-harbour-sailing/ which gets all the keywords for good seo ranking and still describes the page very well.
Title Tags
Title tags
determine your display name in
SERP
. 
Title tags tell users and search engines what the topic of particular page is. Unique and easily recognisable title tags are displayed on top of your browsers.

Each of your pages should ideally have a unique title tag, which helps Google know how the page is distinct from the others on your site. In addition, Google displays the first 50-60 characters of your title tag. Keep your title tags under 60 characters to achieve optimal display in search engines.

Optimal format for title tags is Primary Keyword|Secondary Keyword|BrandName.
 
A good title tag will establish what the user can expect
from the page before they actually click.

Good Practice:
Images & image names
Saving your images with meaningful names is the
start of good SEO. Using your keywords in your image names tells Google what that image is all about.
Loading images - loading times are important for user experience (UX) and impact your SEO. The faster the site, the easier it is to visit and index.
Images have a huge impact on loading times, especially if you load a huge image and show it really small, like using a 2500×1500 pixels image and showing it at 250×150 pixels size. The entire image will still have to be loaded.
Tip: Always use low resolution 72dpi and scale the image to the size you want to show it.
Bad Practice:  
DSC4536.jpg
Good Practice: 
Search-Engine-Optimisation.jpg
ALT Tags
An -alt tag- is a commonly used abbreviation of what's actually an alt attribute on an img tag. The alt text describes what's on the image tag and tells Google the function of the image on the page.
Google says in their
image publishing guidelines
, the alt attribute provides Google with useful information about the subject matter of the image and gives their users the best search return on image queries.
Bad Practice:  
Good Practice: 
Alt tag utilises the following elements:
img

tag. Displays images on a page

src

attribute. Specifies which image file to display

alt

attribute. -Description-
Header Tags
Heading tags are part of the HTML coding for a Web page. Headings are defined with H1 to H6 tags.
They are used  to distinguish headings and subheadings within your content from other types of text (e.g. paragraph text).
The H1 tag must contain your targeted keywords which are closely relevant to your page title and content.
The header tag, or the
tag in HTML, is usually the title of a post, or other emphasised text on the page.

The H2 tag, a subheading contains similar keywords to your h1 tag. H3 tag is then a subheading for your h2 and so on.
Bad Practice:
Website's pages bearing no
tags or 
more than one H1 tag on each page

Good Practice:
H1, H2 and H3 Header Tags for SEO
Why are h1, h2 and h3 header tags important for SEO?
How to use the h1, h2 and h3 tags
Header tags must be used in a proper order starting with your h1.
They have their own place on a page.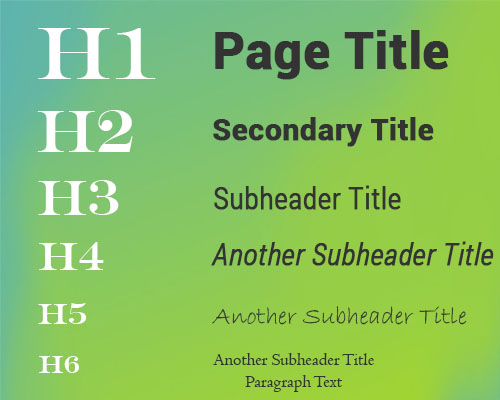 Bold Text
Bolding keywords is a kickass method to tell search engines those texts are important and relate strongly to your content and keywords, and should be taken notice of.
Meta Keywords
Using keywords correctly throughout a page and a website is critical to getting results in the SERPS.
The first use of keywords during the organic search engine optimisation (SEO) process is in the keywords Meta Tag located in the head section of the page's html code. Your keywords should be placed in the Meta Keywords tag () in order from the largest to smallest phrase.

These same keywords should be placed strategically in the Title and Meta Description of the page. Search engines use the Title and Description () as a summary of what the page is about, so placing keyword within those tags is always helpful.

Bad Practice: 
Bombarding your meta tags with keywords not relevant to your website's content
Good Practice: 
Use single word or phrase that is (1) highly relevant to your website's content and (2) has a high key efficiency index
Use Google Tools
Google is the number 1 search engine in digital space. It is a wise move to add Google tools into your website, like a Google Map.
Also ensure your business is listed on google for business (formerly google places) https://www.google.com.au/business/
Blogging
Content marketing is the art of promoting your products and services less the HARD SELL SPEECHES. By distributing relevant content valuable to your prospects, you are positioning your brand as an industry expert deserving of trust.
Content marketing efforts are geared toward driving traffic to your websites and compelling your prospects to interact with your brand.
One avenue to spread your content is through blogging/article writing.
Conclusion
Increasing your search engine ranking entails tasks not known to every business manager. However, having a little knowledge on the BASICS of SEO will help you improve organic search results. #SEONotRocketScience

Need more help? CONTACT US anytime.